How Much Does Wearable App Development Cost?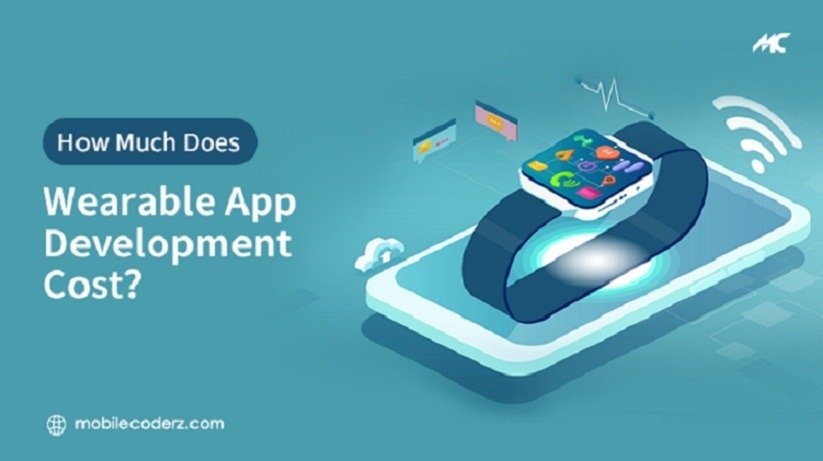 In recent years, wearable app development solutions & business has made significant strides toward becoming a mainstream industry. Businesses are investing more than ever in wearable technologies.
Let's be honest, we never envisaged something like wearables coexisting with us. We are now questioning our past as we consider its prospects.
It all began with Fitbit & Apple, and now nearly every major tech company is attempting to cash in on the trend. It has grown into a multibillion-dollar industry that is rapidly expanding.
According to market studies, there will be more than 900 million wearable gadgets on the market by the end of 2022. That is something we must not overlook.
More and more companies are making debuts, and consumers are going crazy over it. Most people, however, still believe that wearable technology is restricted to smartwatches. But that is far from the case!
This post will attempt to answer all of your questions, including Wearable applications & devices, whether or not wearable technology is beneficial. Why is wearable technology beneficial? And, what are the factors & costs involved in designing a wearable app?
Just spare us your few minutes and we will get going now.
Wearable Apps
1.    Recordr
With Recordr, Android wearables allow users to utilise their watches to capture sound from their surroundings. This particular app has been downloaded by millions of people all over the world. 8kHz, 16kHz, 44kHz, & 48kHz audio can all be supported with it.
2.    Spotify
It is a well-known music application for individuals of all ages. This gives you the same musical experience as if you were listening to music on your phone. You may scroll through the music you want to listen to while also managing other aspects of the software. While using the app, you may control the volume and scroll among the libraries with ease.
3.    Calm
This is the most effective wearable app for staying relaxed and comfortable. Calm is a simple to use program that may be viewed at any time. You may easily subscribe to it and meditate while doing so.
4.    Telegram
Telegram is a popular messaging program that is used by many individuals. It's simple to use for creating groups, checking messages, and responding quickly. Additionally, the wearable app includes customised themes that may be easily deployed according to the preferences of users.
5.    Google Pay
The particular wearable application enables you to pay for your tickets, food, drink, and clothing, etc. You will not need your phone or wallet when using it. All you'll need is a Google Pay-enabled smartwatch and the Google Pay app. This wearable app is ideal for such tasks, whether you need to transfer money or receive it.
Wearables Devices: Types 
1.     Smart Glasses
Wearable technologies and virtual reality come together in smart eyewear. Smart glasses have a specialised following, despite their inaccessibility to many people. Businesses that build AR and VR apps profit from the popularity of these glasses.
2.     Fitness Trackers
Wearable technology has taken a new direction with fitness trackers. It has evolved into a fashion statement as well as a useful tool for maintaining a healthy lifestyle. A fitness tracker is preferred by every fitness enthusiast over a wristwatch, which provides similar functionality. End-users can get real-time health status updates from a fitness tracker.
3.     Smartwatches
When it comes to wearable app technology, the first thing that pops up to the mind is undoubtedly a smartwatch. Smartwatches kicked off the wearable technology league. Smartwatches used to be smartphone companions, but now firms are releasing standalone smartwatches on the market. Users nowadays are unconcerned about the expense of a smartwatch since they understand how beneficial it is.
Choose the top Android and iOS app development business in the industry to kickstart your smartwatch app development project. The reason is their expertise in iOS and Android app development cost.
Wearable App Development Services: Benefits
Wearable technology is becoming increasingly popular, and for good reason. These above-mentioned sophisticated technologies are effective in making our life easier.
Wearables have numerous advantages in addition to being innovative. That is why, regardless of the expense of wearable technology, many businesses invest in it.
1.     Hearables
This is a type of wearable gadget for listening to music. One of the hottest and best-selling hearable accessories are small, wireless in-ear accessories.
2.     Fitness & Health
This is the fundamental motivation behind the development of wearable apps. More and more firms are entering the wearable app development sector to encourage a healthy lifestyle.
These devices and apps connect quickly and provide real-time health information, such as heart rate, pulse rate, calories burned, sleep hours, and more. Fitness monitors are necessary in our fast-paced lives.
3.     Entertainment
The most important benefit of all is that smartwatch app development includes entertainment. The majority of wearable gadgets work with media apps like Spotify. As a result, you can be entertained while on the go.
4.     Activity Tracker
Activity trackers abound on the market. These trackers link simply to activity-tracking wearable apps and provide useful data. Counting steps, estimating calories consumed, tracking hours of sleep, and other duties are all possible with activity trackers.
Wearable app creation necessitates extra care because they are in charge of coordinating many devices at the same time. Despite the numerous hurdles that the wearable technology sector faces, innovators, continue to come up with innovative, cost-effective, and scalable concepts.
Wearable App Development Cost Factors
1.     User Research
The primary focus must be on user research conducted by your offshore wearable app development firm. They work hard to produce excellent results while delivering the final outcome & product to you. A reputable agency with a good reputation will not overcharge you for designing profiles and conducting research. But they will include these costs in the project quote.
2.     App Design
The design of a wearable app is the next key factor that influences its price. You should be aware that building an app for a wearable device differs significantly from designing for a mobile device. You should build a wearable app interface with four primary interaction points, much like any other top mobile app development company: alerts, voice commands, watch faces, and native apps.
3.     App Development
The app development procedure is similar when creating an Android-based wearable device. The cost of developing a wearable app is determined by how it differs from traditional app development.
APIs that are based on watches make a significant difference.
These devices are designed with smartwatch-like features. 
4.     App Testing
Listed below are the factors that make wearable app testing more expensive.
Connecting an app on a smartphone to an app on a connected wearable. Various factors must be considered. For instance, what you'll face when one device turns off, when you have a lost Bluetooth connection, and so on.
Developing wearable apps can be challenging due to the difference in screen sizes.
Whenever an application is being evaluated, the battery life of the primary device needs to be considered. The QA professionals must investigate numerous scenarios in which the primary device is turned off to evaluate how the data is affected.
On the market, few emulators exist. As a result, the cost of developing a smartwatch app rises automatically.
5.     Choice of Technology Stack
When designing a smartphone app versus a wearable app, there isn't much of a difference in the technology stack you choose. Wearable app developers will use similar technology stacks to their counterparts of Wearable App development companies.
6.     Location of the Agency
The typical cost of building a wearable app varies significantly depending on the agency's location. In the event of an Eastern nation agency, the average hour will be between $35 and $60. While the same task would cost between $80 and $120 in a Western country's agency. This is why most businesses prefer to outsource their app development project.
The elements you read about above have an impact on the cost of developing a wearable app. As you may see, these factors might add up to a significant increase in app development costs.
Last Say!!
When it comes to wearable app development, we understand that cost is the most difficult aspect. The functionality of a product is determined by a variety of complex processes, and the cost rises as the app progresses from personalised to advanced.
However, investing in iOS and Android wearable technologies will pay off in the long run. The growing popularity of wearable app development demonstrates this. Technology is always evolving, therefore hiring the best wearable app development business on the market is a sensible investment.
Wearable App Development Cost: FAQs
Q1. How do you calculate the cost of developing a wearable app?
The cost depends on the type of wearable app, the number of platforms, the difficulty of the design, how you develop it, etc.
Q2. How do you make a smartwatch application?
The process of creating a wristwatch app is almost identical to that of creating a smartphone app. From research and design to production and testing, the process is similar to that of mobile apps. The approach is the sole difference. The complexities of smartwatch app design are not required in mobile apps.