10 Best Certified Mobile App Development Companies in 2024
Interactive and user-friendly mobile apps are playing a vital role in boosting the web presence of different scales and verticals of businesses. While mobile-friendly websites are still in trend, entrepreneurs are driving towards innovative mobile apps to give rich and modern user experiences to their potential users and customers.
To make their brand recognizable, they are hiring reliable mobile app development companies. Since professionals know how different types of features and technologies blend in a specific mobile app, it is worth hiring them.
Below are the 10 World's best offshore mobile app development companies that can help you in your next mobile app project.
World's Best Offshore Mobile App Development Companies in 2024
1. Interexy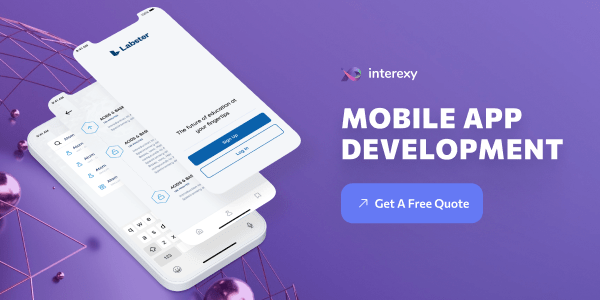 Interexy is headquartered in Miami a full-cycle app development service company specializing in Web development, and Mobile App Development.
With some of the brightest minds and most talented individuals in the industry, we provide exceptional results for all of our clients. We know what works because we stay on top of the industry. For us, it's not just a job — it's a driving passion. And that passion has led to some of the best work on the Internet.
Are you in need of IT services for your business? Interexy can help with your website.
2. Ethervision
Ethervision is ruling the entire mobile app development industry. It is a Chicago-based firm, stabled in 2008 with the sole aim to design, develop, customize and modify the best customer and business apps before meeting the deadline.
They have successfully developed over 200 mobile apps for their global clients. And their apps featured by Google and Apple 27 times.
The USP of Either vision lies in their home-built development tools that enhance the entire development process while meeting the specific requirements of their clients.
3. Lochbridge
The company believes in delivering high-end solutions to all types and sizes of enterprises in the most competitive price. With the same belief, Lochbridge produces quality products, builds a robust customer base, and delivers rich experiences by developing highly interactive mobile apps.
They have a team of developers, designers, researchers, coders, innovators, engineers with the core vision for connecting potential customers with businesses for higher productivity and revenues.
4. Intellectsoft
Intellectsoft is the leading custom mobile and web development firm that takes pride in offering beautiful, high-end, and user-friendly solutions at the most reasonable price. The Company is situated in India while outsourcing its services overseas with the same dedication and enthusiasm.
The company encourages new talents to showcase their development skills and create tailor-made mobile and web-based solutions as per the client's requirements.
Their client-centric approach makes them one of the reliable solutions for mobile app development.
5. JoomDev
JoomDev is a new-generation mobile app development company that creates practical solutions, offers unrivaled services and produces financial outcomes to help businesses build their online brand. For firms of all sizes, their broad bench of expertise enabled them to deliver hundreds of successful apps that are a perfect blend of creativity and quality. 
The company provides a broad variety of Android and iOS mobile app development services in one location. They offer app development solutions to create, release and manage your ideal app.  Let's have a look at what they have to offer:
Android App Development:

Their outstanding android app developers offer you sophisticated mobile apps specially designed for android operating systems. The team knows how to combine practicality and world class design to provide your dream business android application.
iOS App Development:

Their experience spans the whole apple product line, allowing them to offer you scalable, feature-rich, and high-performance apps that provide the best possible user experience for your iOS clients. 
Hybrid App Development:

Their skilled hybrid app developers quickly put forward a multi-platform experience with a mix of native and web application development approaches to create your top hybrid apps.  
Progressive Web App Development:

Their skilled app developers combine the advantages of websites to create amazing progressive web applications, which transforms your web sites into mobile apps.  
The company provides you with a tested process to develop the game changer application for your business. Here are some reasons to hire JoomDev:
In-depth analysis of the concept or idea of the app.

UI/UX designers make a conceptual layout which gives a visual idea of the app.

Use the most creative ways to design prototypes to give life to wireframes.

Latest and best mobile app development technologies to give user-centric app experience.

Evaluation and testing of the app to check the desired performance.

App maintenance and upgrade services at frequent intervals.

Create one-of-a-kind apps of any scope.

Ensures a high level of security during the whole project.
You can trust JoomDev blindly as they have 70k+ happy users and serve 149+ countries all over the globe.
6. iMOBDEV Technologies
IMobdev creates smart mobile applications that can help businesses to grow their customer base and boost their web sales. The Company has completed over 500 mobile apps across the nation by utilizing cutting-edge tools, technologies, and strategies.
They have a team of dedicated and hard-working professionals who know how to build unique experiences for their clients and their customers.
With the use of result-driven design and development methodologies, the company has built a strong brand image all around the world.
7.  Code Brew Labs
Code brew labs specialize in developing intuitive and customer-driven mobile apps for different mobile platforms. They love blending technological competency with creative skills to give out-of-the-world solutions to their happy clients.
They are armed with more than 200 developers, designers, coders, testers, and project managers to create unique applications within the given time and estimated budget.
They ensure that their clients get a 100 % satisfaction guarantee and a great development experience.
8. Robosoft Technologies
Robosoft makes it super-easy for you to build a unique web presence in front of your target mobile audience. The film dives into core planning, designing, and developing processes to deliver ultimate digital solutions across the nation.
Whether you have just started up your business or want to expand your dimensions, Robosoft takes all your worries and helps you create custom mobile apps.
They have developed apps for highly-recognized brands such as Mcdonald's, Vodafone, NDTV, DISNEP, HP, ESPN, etc.
9. Softway
Softway is another trusted mobile app development company incepted back in 2003 with the aim to deliver amazing mobile experiences to all ages of customers. The company owns its own style to develop mobile apps by using highly talented and potential developers and programmers.
To meet unbeatable results, they keep revolving their strategies while keeping the marketing trends in mind. And that is the reason why they have developed more than 1000 mobile apps for diverse industries for both their national and international clients.
10. Tivix
Tivix has in-depth developing skills with high-end expertise to develop innovative digital products and platforms for the global clientele. They use the most advanced technologies to convert rough ideas into visually appealing reality.
It is a Silicon Valley firm that develops interactive and user-friendly mobile apps for different mobile platforms at the most reasonable price.
They are keenly passionate about delivering the best digital solutions to their clients worldwide.
11. Elinext
Elinext is one of the oldest IT companies with dev centers in Eastern Europe and Asia. They have a high rating of their services in Clutch and around 500 developers across the globe. The company delivers native iOS, Android, Cross-Platform applications.
Elinext had been working with such brands as P&G, Siemens, CA, Trumpf and more. The company has rich experience in developing apps in the Financial and Healthcare sectors.
Conclusion
These are the 10 best offshore and feature-rich firms that hold great expertise in developing rich and out-of-the-box mobile apps for all mobile platforms.