10 Best Trusted QA Software Testing Companies
When you develop a website or an application, you will need to run a complete test before its final launch. It doesn't matter how much time you spent in developing a site or app, if it won't stand up to the users you won't be able to generate profit out of it. To avoid performance interruptions and other issues, you will need to find a robust testing solution. This will not only help you address problems but also improve the quality and performance of your application.
Today, most of the IT firms outsource reliable software testing companies who can handle their testing tasks with great efficiency. This means you don't need to spend thousands of money in setting up your own testing team. All you need to do is to research a trusted company that can help you achieve your targeted goals without affecting your budget.
Here in this blog post, we have compiled 10 best-trusted software testing companies that will test your IT applications and websites.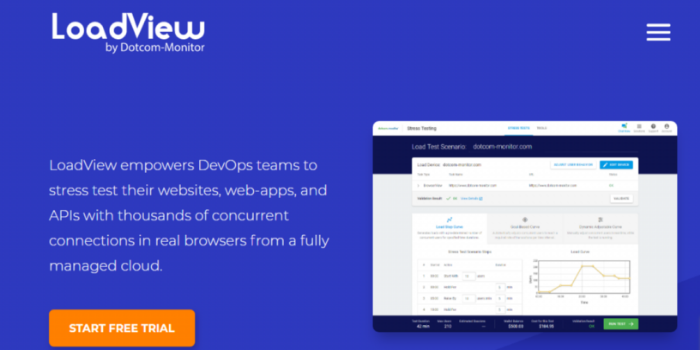 For over 15 years, Dotcom-Monitor has been a leader in the website monitoring and web performance space. Recently, Dotcom-Monitor has launched a new load testing platform – LoadView – which executes monitoring scripts to emulate real users interacting with a website or web app from an external perspective. LoadView is 100% cloud-based, offering a fully managed network with on-demand load tests. Utilizing real browsers, LoadView is much more precise than headless browser alternatives. Users can set up a load test in minutes, with no software to install or hardware to provision. Generating user traffic from around the world, performance engineers, DevOps and CX management can quickly and accurately gain insight into global performance metrics from an end-user perspective. Learn more at www.loadview-testing.com
2. Testingxperts
With 10 years of experience in software testing and QA, testingxperts provides QA outsourcing, managed to test, and test automation services to help businesses build up mature QA processes and ensure the high quality of software.
Testingxperts test team, which includes ISTQB-certified engineers, combines testing expertise gained in 250+ successfully completed projects with professional knowledge in multiple industries (retail, healthcare, manufacturing, public sector, banking, and financial services, telecoms and media) and tech domains (CRM, B2B, and B2C portals, eCommerce, BI testing, and more).
Do you want to save money from setting up an entire testing environment for your app or website? If yes, then must outsource the software testing solutions from QA Consultants. Since their inception, QA Consultants has become one of the leading software testing providers across the nation.
Their main focus is on maintaining the reputation of their clients by providing the best software testing services to the IT firms. They also offer QA, quality engineering, game testing, performance testing, and eCommerce site testing services to different types and sizes of companies all over the world.
Leveraging the leading-edge technologies, A1AQ takes pride in offering a whole gamut of software testing solutions, ranging from functional testing to performance, security to usability testing. Their quality testing solutions will take your site's or app's user-experience to the next level.
With their in-house testing managers, you will be able to focus more on the core features of your products rather than wasting time on fixing the bug issues. The Company will ensure that your reputation remains on the top, without any compromise.
Being one of the leading software testing companies, PQA Testing offers a complete range of software testing solutions, Quality Assurance and other IT based services to their reputed clientele base.
Whether you want to test the performance or usability of your software, the company is always there for your testing needs. The in-house software testing managers analyze the behaviour of your software under a particular expected load to improve its performance. So, save your money and improve the quality of your software by hiring PQA Testing firm.
If you want to avoid unexpected risks and boost the quality of your app, then outsource the best software testing firm such as DeviQA Company. They work closely with their clients, understand their needs and offer them the best results within their estimated budget.
With the use of high-end technology and automated tools, DeviQA helps you provide you the deep testing solutions while fixing all the bug and performance issues.
From performance testing to usability testing, Test Army provides a complete range of software testing solutions to the IT Industry depending on their specific needs. Their in-house experts do a proper testing to detect security vulnerabilities, performance bugs and other issues before its final launch.
Their functional testing check whether a testing system is meeting all the specific requirements or not – this can improve the overall user experience of a site or an app. So, instead of spending money in creating your own testing environment, outsource them and focus on the other features of your software.
vTest is one of the most trusted software testing companies that deals in rendering QA and testing solutions to all IT firms. Their QA managers work closely on their projects and detect all the issues, security bugs, performance blunders and other functional issues before handing over to their clients.
Since their inception, vTest has successfully delivered over 1000 testing projects to their clients across the world – all thanks to proven methodology and tools, in-depth technical knowledge, and full-fledged testing center.
OnPath Testing takes pride in managing the software quality while fixing all the bugs before handing it over to their clients. With their stress testing, you will be able to identify the utmost limits of your application capacity.
If you want to know the productivity of your software under an increasing volume of stored data, then their volume testing is best. Their AQ managers will take care of everything and deliver you the best results in terms of high quality software performance.
Outsource the QATestLab's QA and software testing solutions and see your application with great efficiency. They provide you the functional testing, security testing, usability and performance testing without any compromise.
You can trust them and avail their testing services for improving the quality of your software.
Conclusion
These are the 10 most trusted and recommended QA and Software Testing Companies that can help you focus on improving the quality, performance, and usability of your software the way you dreamt off.